We are committed to providing you with the highest quality of service and safest products. If you value personal attention and old-fashioned service come and visit Surrey Center Pharmacy. Courtnee Russ, owner and Earl Wright, pharmacy manager have been serving the Augusta area since 1979. We offer a variety of services to meet your individual needs. Be sure to come and see our unique gift selection while we fill your prescriptions. Our pharmacy accepts most third party insurance plans. We also offer delivery service of your prescriptions to the surrounding areas for a $1.00 fee. Our friendly staff is always ready to help you with all of your prescription needs.
Surrey Center Pharmacy is not just somewhere to come and fill your prescriptions, we offer many other services as well. We are the home of a United States Postal Substation. Here you can buy stamps, mail packages, mail certified, registered, priority and express mail or open a post office box. Our post office also offers expanded Saturday hours 9 AM -12 PM. You can come to Surrey Center Pharmacy to make copies, send faxes or have keys made.
For those of you with a sweet tooth we offer a variety o soft serve frozen yogurt flavors for you to enjoy. Also, ask about our specialty compounding services that are available to you. If you are interested in requesting your refills online, call us to sign up for your Refill Rx ID. At Refill Rx you can request refills, view your personal prescription profile, get drug information, and sign up for e-mail reminders for future refills. Don't forget to sign up today!
Come and visit us at Surrey Center Pharmacy, we give you the peace of mind that comes from doing business with someone you trust.
Our Story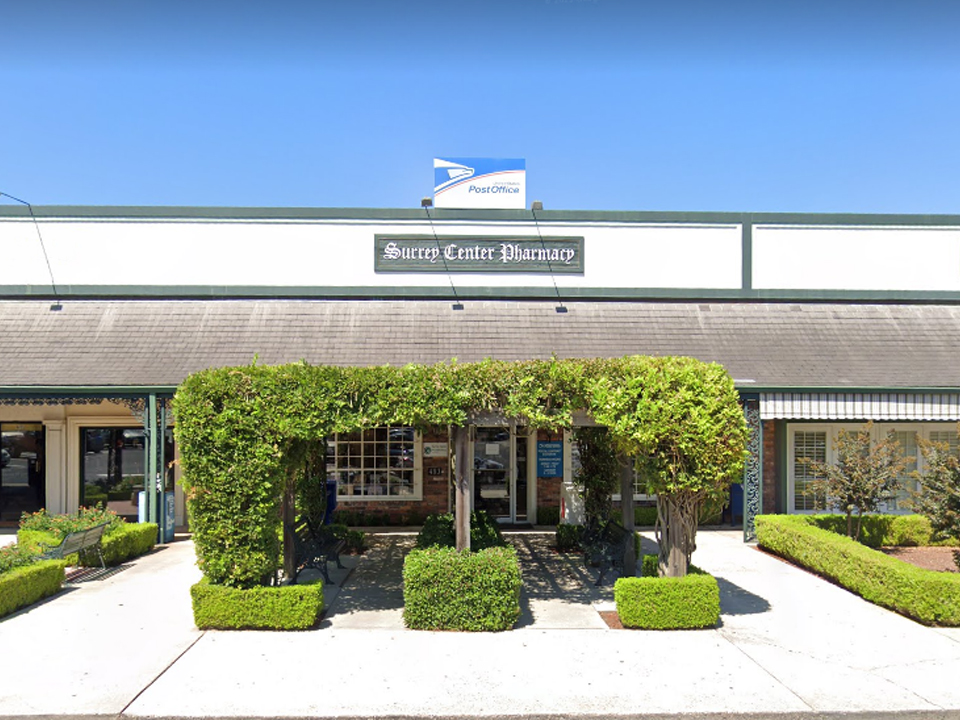 The staff at Surrey Center Pharmacy has cared for generations of families over the years and takes pride in providing personal attention and consultation based on our customers' health care history.
Owner Earl Wright has been a licensed pharmacist since 1970 after graduating from The University of Georgia's School of Pharmacy. Earl has worked in West Augusta since 1971 and came to Surrey Center Pharmacy in 1979. Brenda Kirkland joined him in 1984 as a part-time pharmacist. Courtnee Russ joined the Surrey Center family in 1994. After completing her education at The University of Georgia she became a licensed Pharmacist in 2002 and joined the staff full time. Melissa Sidener and Melissa Vance are both certified pharmacy technicians with prior experience in the health care industry. Our pharmacists are currently members of the Georgia Pharmacy Association and National Associations of community Pharmacists. Surrey Center Pharmacy people you have known and trusted with your family's health care needs for more than 30 years.
Our Motto
Our goal is to be "your neighborhood professional pharmacy with the personal touch." We provide services that will improve the quality of life for our patients by playing a more active part in helping them achieve and maintain good health.
Be sure to register your e-mail address under our prescription refill page if you would like to be reminded to refill your medications 5 days before they are due. For information on our other adherence programs, please give our pharmacy a call at 706-738-4558.
"Providing excellent patient care is the main priority here at Surrey Center Pharmacy."

Courtnee Russ - Owner/Pharmacist in Charge
Your Service-Oriented Pharmacy
Surrey Center Pharmacy is a locally owned independent pharmacy that is dedicated to consistently meeting and exceeding the expectations of our patients.
Prescription Medications:
We provide a full line of medications and health-related products.
Medical Billing:
We accept all Medicare part D plans.
We also bill Medicare part B for diabetic testing supplies.
Clinical Services (Medication Therapy Management):
We perform a comprehensive medication review to identify and resolve drug interactions for our patients' safety. We also recommend more affordable alternative drugs, when available, according to the needs of our patients.
Compounding Services:
Our experienced compounding pharmacist can fill prescriptions according to your doctor's specific instructions.
Over The Counter Medications:
We carry a full line of vitamins and supplements.
Delivery Services:
We provide delivery service in our surrounding service area for a $1 fee.
Greeting Cards
RefillRx Mobile App
Shipping Drop Off
Soda Fountain
Text Notifications
Vaccinations
Automatic Refills
Gift Shop
Immunizations
Unit Dose Packaging
Vitamins
Prescription Refills
Patient Resources
Compounding
Pet Compounding
Meet Our Friendly Staff
Pharmacists

Courtnee Russ Pharm-D
Owner/Pharmacist in Charge
courtnee@surreycenterpharmacy.com
Earl Wright RPh
Pharmacy Director
earl@surreycenterpharmacy.com
Brenda Kirkland RPh
Pharmacist
Robert Russ Pharm-D
Pharmacist
rob@surrycenterpharmacy.com
Technicians

Melissa Vance CPhT
melissav@surreycenterpharmacy.com
Melissa Sidener CPhT
melissa@surreycenterpharmacy.com